Between you, me, and the Internet, I'll let you in on a little secret: I really, really like to win things. Of course, this doesn't happen very often, especially these days, but when it does…
Years ago, my kids saved up their allowance money to buy me a book based on a real-life story they thought I'd like: The Prize Winner of Defiance, Ohio (later made into a movie starring Julianne Moore). They said the title character—a mom who supported her family of ten kids in the 1950s/60s by writing catchy advertising jingles for popular contests found in the back of women's magazines and on soap and cereal boxes—reminded them of me.
They were right. I loved the book, because as a kid I immediately flipped to the back of my mom's Ladies Home Journals and McCall's and Better Homes & Gardens looking for those very ads. I also perused all the "Can You Draw Me?" and "We're looking for people to write children's books" ads. I was dying to have my aptitude measured, because my writing career needed to start ASAP. It didn't help that Pulitzer Prize-winner Robert Penn Warren's daughter, who lived two doors down, had already published her first book—at the age of ten.
I settled for entering the annual poetry contest sponsored by the Fairfield Public Library. As prizes, they gave all of us "winning" authors real hardcover books with our work published (here's one of the title pages, with my mom's note):
I loved every kind of contest. I won a blue ribbon in a garden show (no snickers, people—my hubby calls me Round-up) for creating a vegetable sculpture that was supposed to be an elephant. I entered the Dogwood Bazaar poster contest every year. I even entered (heaven help us) children's art shows with sappy oil paintings (and by sappy, I mean they never dried). I stayed in Girl Scouts for a year or two later than I might have so I could clean up on badges (Cooking was a tough one).
By the time I was eleven, I had become a competitive figure skater. In my first competition in New York City, I came in eleventh out of thirteen. I was ecstatic, because my coach had warned me when I signed up that I wasn't ready. (But I didn't come in last!! Yippee!!) Here's a pic of me at about fourteen, with one of my closest competitors. She's probably laughing here because she beat me. I am acting polite but clearly I'm not quite as amused.
In high school, I may have applied to a few colleges because my guidance counselor felt they were "too big a reach" for me. The first thing I did when I got my acceptance letters was drive straight back to school to show them to him. (Yeah, I know. What a brat.)
In those days, "nice" girls were not outwardly competitive. They were quietly accomplished, and above all, good sports. I had to learn how to lose gracefully. A lot. There were no huge, gleaming trophies for participation.
Yesterday I found that copy of The Prize Winner of Defiance, Ohio on my bookshelves. Of course I needed to skim through it, for old times' sake—and perhaps a glimmer of inspiration in completing a writing project that's been draining my confidence lately.
By the early 70s, the heyday of the jingle-writing contests was over, and all-luck, no-skill sweepstakes became the norm. Evelyn Ryan went to work at J.C. Penney's to put the rest of her kids through college. But she never gave up. And, in addition to the fact that she was a very clever and talented writer (and sharp businesswoman), she often made the point to her kids that you had to be in to win.
As writers, we are all "in" this game together. It's not about how many publishing contracts we get, the amount of our royalties, or Amazon stats. It's about creating books our readers will love, and hopefully we will, too. Awards season is upon us now, and several of our very own Chicks and our bestest writer friends have been nominated in multiple categories. I will be cheering from the audience, and truly thrilled for whichever ones among the worthy candidates win.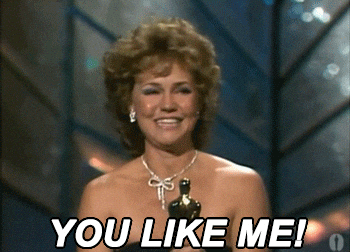 Who knows? Maybe someday, somehow, my name will be announced at a writers conference, and my kid self will inwardly jump for joy as I glide gracefully (and gratefully) toward the podium to make my acceptance speech. Such awards are not miracles—they're most definitely contests of skill—but one thing is certain: You have to be in to win.
Back to the keyboard for me. And I'd like to thank my kids and Evelyn B. Ryan of Defiance, OH.
Readers, have you ever won anything, by skill or chance? Let us know in the comments below!