Since we just passed a full year of pandemic quarantine life, I was planning to write something thoughtful and retrospective about that. It's such a milestone. It's important to think about, and I have been thinking about it for weeks. But when I sat down to write the post, I changed direction because–honestly, where I'm at right now is exhausted and in a mood. And I know I'm not alone.
So here goes. Something totally random and light instead for your Monday.
*clears throat*
I loved loved loved Buffy the Vampire Slayer. Epic themes, brilliant linguistic play, and engaging storylines. Plus, it became even more self-aware as the seasons progressed, which I considered to be a major bonus. The actors were wonderful too. Overall, it was an outstanding  and compelling series.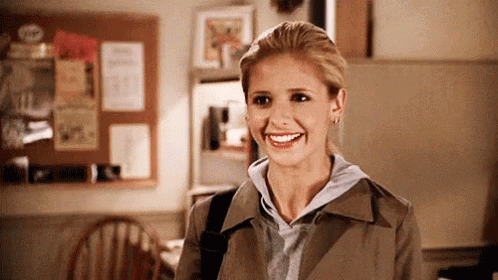 I was left with a few questions, though…
How come no one ever looks through the window before opening the front door? Living on the Hellmouth, people!
And a related question: why does Buffy sleep with her windows open? Again, Hellmouth! (True, vamps cannot come in unless invited, but there are all other kinds of hideous monsters zooming around Sunnydale.)
Is the high school never locked? Because those kids are hanging out there at all hours…
How come Giles can always find the answer in his books? He never even has to use interlibrary loan.
Why doesn't Buffy ever take a back-up stake when she does patrol? Whenever her stake is broken, it's big drama…and then she has to MacGyver another one.
How can Spike drive that car with all the windows blacked out?
If Buffy is The Chosen One, how can there be a Watcher convention? (I know, the alternate Slayer line exists but still, wouldn't that be only two? So how is that enough Watchers for a whole conference in the Cotswolds?)
How can there be 300 people inside The Bronze, yet the main characters' cars are always parked right out front? That's just plain magical.
Do you have any lingering questions about any television shows?